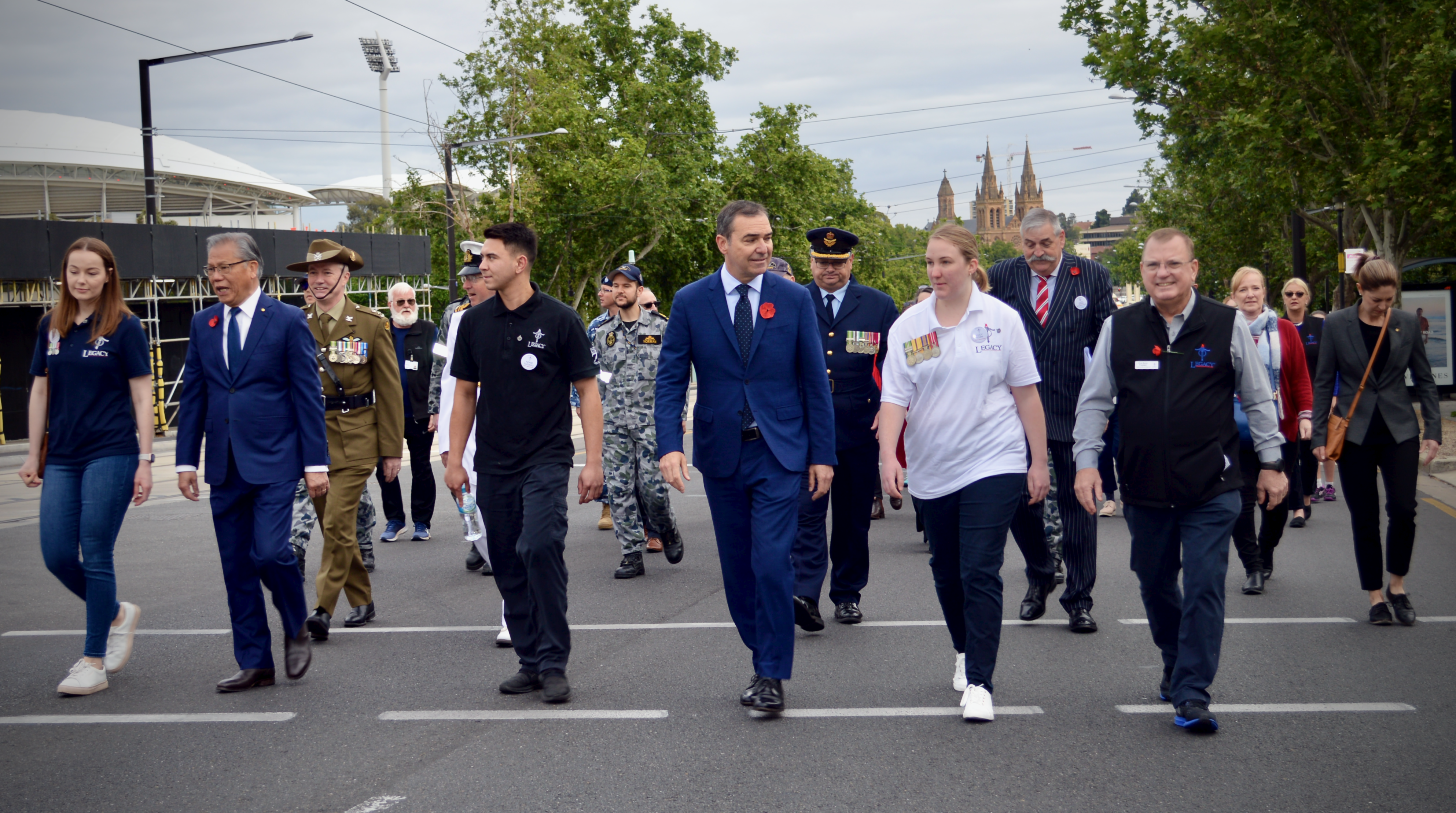 In such a turbulent year of change and uncertainty Legacy's Remembrance Walk provided the opportunity to pause and reflect on those who served our nation and the families left behind.
Friday the 6th of November saw supporters come together for Legacy's Annual Remembrance Walk which was held at the Torrens Parade Ground. The event was capped at 200 due to COVID and hit its maximum quite early. With the restrictions in place, for the first time, we offered the event virtually, which meant our supporters could register to walk/run anywhere, any time. This was taken up by quite a few of our supporters, who then went on to fundraise to raise the much needed funds for Legacy.
The 1.5km walk saw Legacy's patron, His Excellency the Honourable Hieu Van Le AC, the Governor of South Australia, and the South Australian Premier, Steven Marshall, along with newly appointed Legacy's Youth Ambassadors lead the walk. We were also very fortunate to once again have a Trooper, Martin Hilton, from the Barossa Historical Light Horse Brigade set the pace for our walkers.
The walk came to a stop at the Dardanelles Memorial where there was a wreath laying, led by the Governor, followed by the Premier and invited Australian Defence Force representatives in remembrance to our fallen. The walk concluded with a good old Legacy BBQ Breakfast, cooked by a team of volunteers from Babcock. It also gave an opportunity for photos and networking.
This event would not be possible without our Sponsors and Supporters, their contribution was greatly appreciated.
We take this opportunity to thank our Board members, Legatees, Families and Staff for their support, it was great to see such a mix of attendees.
We sincerely thank all of our sponsors for their commitment to Legacy. Our events would not be possible without support from organisations like this list below.
Legacy has suffered tremendously during COVID, with cancellation of our major fundraising events, like Legacy Badge Day and our general donors, businesses and grant opportunities at their all time low. The continued contribution through sponsorship, whether monetary or in-kind for Legacy's Remembrance Walk was amazing and saved us money, money that can now be put back into supporting our Legacy families.
It is the kindness and generosity of organisations, public in addition to Grants, that enables Legacy to keep the promise made in 1923 to look after the families of those who served our nation.
Please support those who support us!
Best wishes to you and your loved ones for good health, and better times ahead for us all!