Legacy Bear Hunt
The Legacy Bears have been spotted all across Australia!
Click on each colouring image below to download, we would love for you to hit the 'Donate' button in the top right corner also and donate a dollar for a download!
Show us your masterpieces! Tag us @melbournelegacy on Instagram.
Legacy
Teddy

Bear Picnic.

Our Legacy bears are going on a Teddy bear picnic and you're invited!

Melbourne Legacy have partnered up with a local Melbourne business, Taylor Made Gourmet, to create a box of special treats for the family to enjoy during your very own teddy bear picnic..

Make sure you grab a bear or two at the same time to share in the fun with you!

Melbourne! Click the link below:

If you are outside Melbourne you can still join in the fun and make your own picnic at home, grab bear and post a pic using #legacyteddybearpicnic
Little
Badge

, Big Impact.

Buy a Badge or Bear to help us support the families of our veterans this Legacy Week 29th August – 4th September 2021.

The Legacy Week appeal has been running since the 1940's and is a time for all Australians to show their support for the widows and children whose loved ones have served our country.

The Legacy Badge is a special emblem of support for our veterans' families, symbolising our nation's greatest values of mateship, compassion and fairness.

Legacy Badges may be little but the funds they raise make a big impact in the lives of our veterans' families.

Click here to buy your own badge to show your support or your own bear to join in your Legacy Teddy Bear Picnic
Your
impact
Read about the impact fundraisers like Battle of the Bases can have on Legacy families across Australia.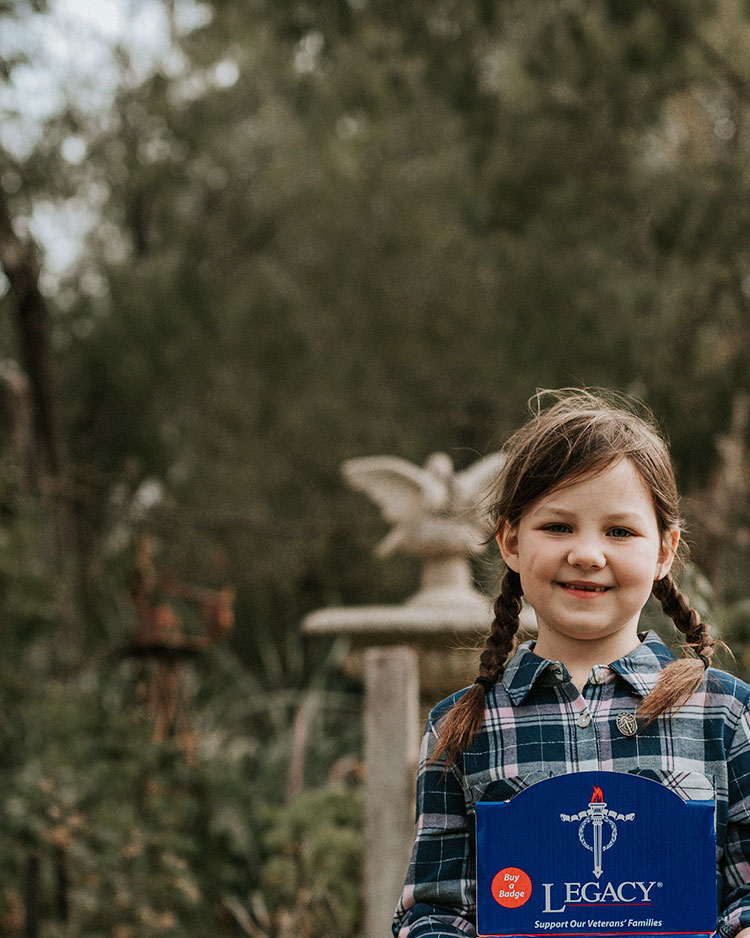 Supporting our veterans' families
In 1923 Legacy made a promise to help veterans' families carry on with their lives after the loss or injury of their loved one. It was a simple promise that Legacy keeps today; providing the same stability, guidance and assistance that a partner would normally provide to his or her family.
Today, Legacy supports 43,000 partners and children of veterans who gave their lives or health serving our country.